Every once in awhile we need to escape as adults and recharge our batteries. Whether you are looking for a destination as a couple or a group of girlfriends, this page will feature adult centered locations and activities.
craft beer, rahway new jersey, the irving inn social, Uncategorized, wet ticket brewery
Benjamin Franklin said, "Beer is proof that God loves us and wants us to be happy!  This was a conversation recently overheard at a dinner party.  The men in the group were chatting animatedly about craft beer and the many new breweries that are popping up locally. As the ladies joined the conversation we learned that NJ has over 70 craft beer breweries and that an actual passport exists which fans of beer can use to track and rate each brewery.  We were intrigued and suddenly we began to feel the winter doldrums melt away as a new group adventure began to take shape.
Many in this group of friends are teachers so it was exciting to discover that the NJ Brewery Passport was created by a fellow teacher who uses the covers of old lesson plan and grade books for the upcycled passport covers.  Two versions of the passport are available and they are constantly being updated as new breweries emerge.   The original version, made with HP high gloss paper, contains all 71 breweries in New Jersey.  This costs $15.  If you are more adventurous and interested in exploring a bit outside of NJ, you can purchase the $20 version which includes all the NJ breweries PLUS 21 breweries in the NYC area and 21 in Eastern PA.  We decided to spring for the $20 version since we planned to make group brewery visits a monthly event. https://www.etsy.com/listing/257345202/nj-brewery-passport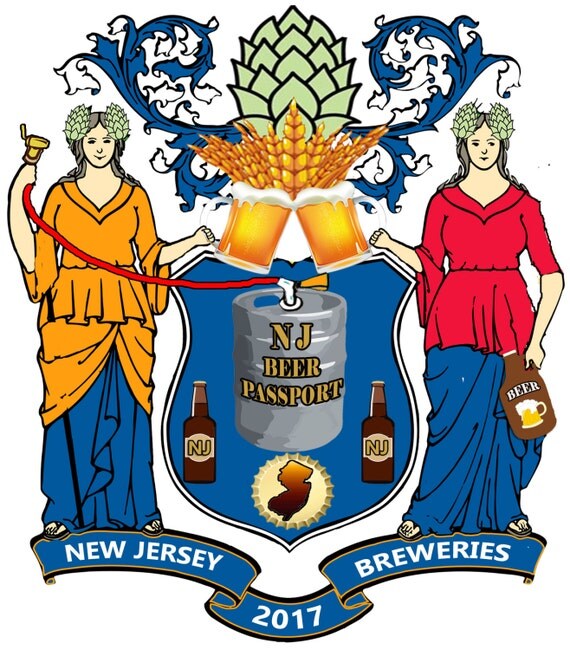 Our passports arrived quickly and we were thrilled with the quality of our purchase.  We planned our excursion for Sunday at 2pm.  Having learned that NJ breweries are unable to sell food, we packed a small picnic of appetizers so that we could enjoy some snacks as we tasted interesting local brews. Our first stop would be Wet Ticket Brewery in downtown Rahway, NJ.
Upon arrival, we were impressed to see that there were many people sitting at the bar and at the groups of tables.  We were informed that before we could enjoy the beer they served, we were first legally required to take a tour.  NJ has some unique laws regarding craft breweries and taking a tour first is one of these laws.  We were happy to look around and learn about the variety of beers we would soon be tasting.  After our brief tour, we found a nice spot to gather and began to taste the delicious golden liquid.
A sampler of four 2oz choices seemed the perfect way to begin. We each explored our options before we chose a favorite. Together we gathered around high top table, enjoying our beer, the great music and the overall cool vibe of Wet Ticket Brewery.  After a while we took out our passports and asked the owner to stamp them for us as we debated which beer we would be rating as our favorite. Though the owner was familiar with the NJ Brewery Passport, many patrons were not. A buzz seemed to grow around us as other beer lovers noticed our cool accessory and wanted to know all about it.  Soon we were all engaged in conversation as we shared our plans to visit other breweries and heard about the experiences of others. Our passport was a true conversation starter, introducing us to interesting new acquaintances who all shared a love of craft beer. 4pm seemed to arrive much too quickly and we soon became aware that our time at Wet Ticket would need to come to an end.  We finished our beer and conversation and vowed to be back soon.  Since we were not quite ready to head home, we decided to visit the iconic, Nancy's Townhouse which is just a few steps from Wet Ticket Brewery.
Among those in the know, Nancy's Townhouse is the go to place for the best thin crust pizza in NJ!  Having been here and tasted this delectable treat, I was excited to share it with my friends.  Upon entering the unassuming brick building at 1453 Main Street, and descending the steps into the restaurant, one is instantly transported back in time to a good old fashioned Italian restaurant complete with red and white checked table cloths and waitresses who know the regulars by both name and drink of choice.  Since it was Sunday at 4pm we did not have trouble getting a seat, however if you come on a Friday or Saturday night, you might want to call ahead for a table.  Nancy's is THE PLACE for pizza and many in the area flock here for the perfect pie on the weekends. We happily noted that some of our new friends from the brewery had also migrated to Nancy's so we continued our conversations as we enjoyed our perfect thin crust pizza.
We laughed as we chatted, realizing that we had begun an impromptu pub crawl through Rahway so we decided to add one more stop to our day, The Irving Inn Social, located just around the corner at 1443 Irving Street.
The Irving Inn Social felt like home the second we entered the bar.  Decorated with designs inspired by the classic rock period of the 1960's and 1970's we were instantly comfortable and knew this would be a place we could gather with friends.  The environment is warm and inviting and the menu is filled with intriguing selections for every palate. Drink selections include a choice of wine, bourbon,12 rotating craft beer taps and cocktails named for classic rock songs. We were happy to see that they featured beer from their neighbor Wet Ticket and even have a Tuesday night special beer and burger pairings featuring selections from Wet Ticket. This place is a true local treasure!
We chatted with the owner Jesse about the cool rock photos on the wall, the weekly entertainment and the yummy small plates we were sharing at our table. He is warm and engaging and the kind of guy you hope will be very successful. Jesse knows his craft beer and engaged the beer lovers at the table with discussions of his favorites and those he will soon feature.  We showed him our passport and he gave us insight on the breweries he has already featured and those he hopes to.  Before leaving, we explored the outside patio and promised ourselves to return when the weather was warm. This felt like a place we could visit often.
As the day turned to evening, it was time to return to our homes. Before we said goodbye, we chose a date and selected the next brewery we would visit. Now that we had our first stamp in the NJ Brewery Passport we were anxious to add more!
Girlfriend Getaway, New York City, Sex in the City
Being a "grown up" is hard work!  Our days are filled with schedules, carpools and far too many responsibilities!   Successfully maintaining the title, "adult" requires lists, delegation and the ability to juggle a million things all while appearing unfazed.   That is exactly why it is important to take a little time every once in a while, to recharge our emotional batteries and nurture our exhausted souls. "Girlfriend Getaways" are the perfect way to do so!
Way back in the '80's I met a bunch of cool chicks who would become my lifelong friends.  We were all students at our beloved Juniata College where we lived together and made memories we still laugh about today.  Each year we spend one weekend together catching up on each other's lives and reminiscing about the days gone by.  Since we are spread across four different states, we vary the location of our annual reunion but always try to make it easily accessible for everyone.  Recently, we spent a weekend in NYC walking in the footsteps of another, more famous group of girlfriends, the girls from "Sex in the City!"
Now, being ladies of a certain age, we are successful enough to appreciate and dare I say, almost require, a nice place to stay on our annual visits.  On this occasion, we chose the Warwick Hotel at 65 W 54th Street, in Manhattan as our home base.  The Warwick Hotel was established in 1926 by William Randolph Hearst who built the hotel for the love of his life, Marion Davies.  Upon arrival, one is instantly transported to another era filled with opulence and luxury.   Randolph's bar and lounge, located just off the lobby, with its large windows overlooking the Avenue of the Americas, was a perfect gathering spot as we waited for each of the ladies to arrive.   Our evening there consisted of yummy signature cocktails, cheese plates and upscale appetizers as we chatted effusively, often simultaneously, thrilled to be together and aware of how quickly these 72 hours would pass.
The morning found us armed with coffee and a quick bite, ready to head off to the famed Plaza Hotel where we would meet our guide and begin our bus tour to visit the hot spots featured on the popular HBO series.  In the frigid cold we waited with other groups of women, anticipating the fun we would have and hoping that the $50 ticket price would be worth it.  It soon became obvious that it was time for the fun when we noticed a bus pull up covered in photographs of the characters from the show. (www.onlocationtours.com )
Upon boarding the bus, the entertainment began immediately.  Our tour guide, who was an expert on all things Sex in the City, directed our attention to the video screens where we viewed clips from the show that related to the locations we'd be visiting  that had been important in the lives of these fictional characters.
Our first stop was the White Horse Tavern ( http://www.whitehorsetavern1880.com ), right smack in the middle of the village at 567 Hudson St.  This iconic pub, established in 1880, is the second oldest continuously run tavern in NYC and served as a backdrop to many girlfriend gatherings on SITC.  The inside of the bar is warm and welcoming with much of the original woodwork and a beautiful tin ceiling.  We were lucky to find seats as we enjoyed our first cocktail of the day (at additional cost) before re-boarding our bus for the next stop.
Magnolia Bakery (www.magnoliabakery.com ), whose famous butter cream topped cupcakes may have started the cupcake craze, was the next stop. We were served pink frosted cupcakes before leaving the bus and invited to explore not only Magnolia but the surrounding trendy West Village boutiques.  Time passed quickly here and 30 minutes later we were back on the bus and headed for Budakkan!
Budakkan (www.buddakannyc.me), as fans of the show will recall, was the location for Carrie and Big's rehearsal dinner.  It is huge with several beautifully decorated rooms featuring giant wall murals and Asian artifacts.  The menu is upscale Chinese and the prices are very NYC.  We stayed for a cocktail, took several photos and we were back on our way.
As we parked at our fourth location, whispers and giggles could be heard throughout the bus.  This was the R-rated part of the tour. Fans of the show will recall the famed "rabbit" that was introduced to the ladies by Miranda and which Charlotte became obsessed with!  We had arrived at a shop called, The Pleasure Chest at 156 7th Avenue South.  It was almost comical to see how "The Rabbit" was featured front and center on the largest store display.  Clearly, we were a captive audience and they were hoping for lots of sales! The shop, which did feature some eyebrow raising unique items, felt less seedy than one would expect.  Although interesting to explore, our group re-boarded the bus empty handed and ready for another cocktail at our next destination, the famed location of Aidan and Steve's bar, Scout.
O'Nieal's Grand Street Bar (www.loungenewyork.com) was the location used as Scout. Its storied history tells of an old speak easy with an underground tunnel to the police station across the street! We were thrilled to enter and find a hostess holding trays of Cosmos, the signature drink for the ladies of SITC! White twinkle lights around the front window seemed to beckon us to a cozy booth with 5 empty seats.  It had been an interesting day filled with lots of cool trivia about one of our favorite shows but we were now ready to kick back and enjoy this tasty libation.  Sadly, after 2 cosmos, we had to leave this adorable spot to rejoin the tour to visit our  final destination.  The tour concluded at the HBO store @ 1100 Avenue of the Americas (where else?) with smiles and thanks. We had spent 4 hours living like our favorite characters and now we were ready for more fun.  Our tour guide handed us a variety of coupons for the locations we visited and gave us some "inside scoop." It seemed that the REAL Carrie, Sarah Jessica Parker would be launching an upscale exclusive line of shoes the next day.  This elite event would take place in SOHO at a pop up Nordstrom boutique! It felt serendipitous so we added it to our plan for the next morning.
At the suggestion of a foodie friend, we planned dinner that night at Ristorante Il Melograno, (www.ilmelogranonyc.com). It is an intimate authentic Italian restaurant located at 501 West 51st Street where the bread and pasta are homemade and the ingredients are imported from Italy.  Our cute Italian  waiter wooed us with suggestions from the menu and descriptions of the specials for the evening. Each of us selected something different and enjoyed tasting from each other's plates. We topped off the evening with a delightfully rich cup of cappuccino and simple sweet dessert special.
Brunch after a fun filled Saturday night was at the hotel restaurant, Murals.  We lingered over conversation since some of the ladies needed to begin their trek back home before the realities of Monday morning arrived.  After saying our good bye to our pals, a few of us decided to see what the pop up boutique was all about. We hoped our SITC weekend would be topped off by a siting of the ever fashionable, Sarah Jessica Parker! We took a cab to the Nordstrom boutique at 372 West Broadway and quickly realized we were not the only people with this brilliant idea.  The lines were down the block and around the corner! The energy was effervescent!  Word was that she was on her way and would arrive any minute.  Cameras were poised, the fans were elated.  Soon, the energy waned.  It became obvious the information about her impending arrival had been erroneous but we waited anyway, chatting with others in line, anxious to meet the star and even more anxious to try on her new line of fabulous shoes! Suddenly, without any fanfare, a black town car pulled up and from it emerged a petite well-dressed woman……SJP had arrived! Big burly guards surrounded her as she smiled and waved to the crowd.  Quickly they ushered her out of the cold into the elegant boutique where she would meet with fans and assist in their shopping for the perfectly dreamy high heeled shoes.  Again, we were in line, this time waiting to enter, explore and possibly make an expensive purchase.  Reality began to set in.  It was midday Sunday and images of our "real lives" began to creep into our thoughts.  We decided to forgo waiting in line, promising ourselves we would check out her website to look at the shoes. www.nordstrom.com/SJP
Our final stop was at an adorable French patisserie, Laduree, 398 West Broadway, which we happened upon it as we began our walk back to the hotel.  What a delightfully "frou-frou" boutique it is!  We were captivated by the very French vibe and beguiled by the delectable treats in the bakery case.  Front and center were 20 watercolor versions of perfectly yummy looking macarons.  Each of us studied the flavors, oohing and ahhing over the decisions to make. After placing our orders, we were delighted to receive our purchases in elegant Lauderee signature boxes.  Who needed shoes?  We were returning home with French macarons in fancy boxes!
As we returned to the Warwick Hotel, we gathered our bags and summoned the valet. As usual our weekend together seemed to pass too quickly.  However, our hearts were full and our "batteries" were recharged.  We could return to our real lives refreshed and ready to be "grown-ups" again!