Benjamin Franklin said, "Beer is proof that God loves us and wants us to be happy!  This was a conversation recently overheard at a dinner party.  The men in the group were chatting animatedly about craft beer and the many new breweries that are popping up locally. As the ladies joined the conversation we learned that NJ has over 70 craft beer breweries and that an actual passport exists which fans of beer can use to track and rate each brewery.  We were intrigued and suddenly we began to feel the winter doldrums melt away as a new group adventure began to take shape.
Many in this group of friends are teachers so it was exciting to discover that the NJ Brewery Passport was created by a fellow teacher who uses the covers of old lesson plan and grade books for the upcycled passport covers.  Two versions of the passport are available and they are constantly being updated as new breweries emerge.   The original version, made with HP high gloss paper, contains all 71 breweries in New Jersey.  This costs $15.  If you are more adventurous and interested in exploring a bit outside of NJ, you can purchase the $20 version which includes all the NJ breweries PLUS 21 breweries in the NYC area and 21 in Eastern PA.  We decided to spring for the $20 version since we planned to make group brewery visits a monthly event. https://www.etsy.com/listing/257345202/nj-brewery-passport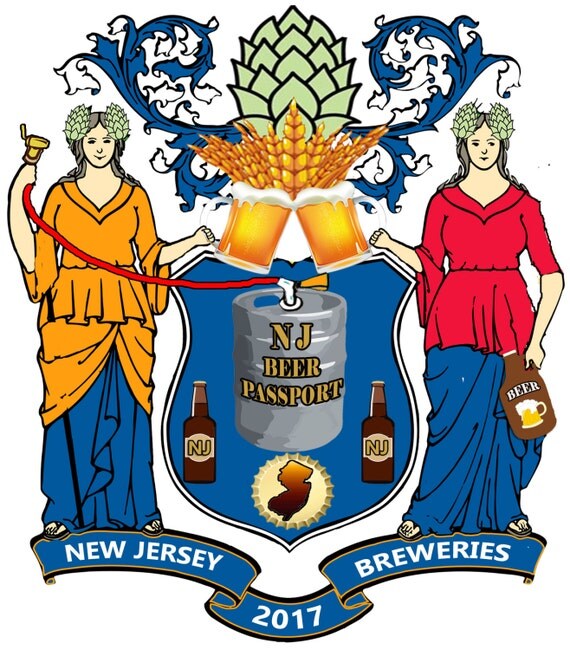 Our passports arrived quickly and we were thrilled with the quality of our purchase.  We planned our excursion for Sunday at 2pm.  Having learned that NJ breweries are unable to sell food, we packed a small picnic of appetizers so that we could enjoy some snacks as we tasted interesting local brews. Our first stop would be Wet Ticket Brewery in downtown Rahway, NJ.
Upon arrival, we were impressed to see that there were many people sitting at the bar and at the groups of tables.  We were informed that before we could enjoy the beer they served, we were first legally required to take a tour.  NJ has some unique laws regarding craft breweries and taking a tour first is one of these laws.  We were happy to look around and learn about the variety of beers we would soon be tasting.  After our brief tour, we found a nice spot to gather and began to taste the delicious golden liquid.
A sampler of four 2oz choices seemed the perfect way to begin. We each explored our options before we chose a favorite. Together we gathered around high top table, enjoying our beer, the great music and the overall cool vibe of Wet Ticket Brewery.  After a while we took out our passports and asked the owner to stamp them for us as we debated which beer we would be rating as our favorite. Though the owner was familiar with the NJ Brewery Passport, many patrons were not. A buzz seemed to grow around us as other beer lovers noticed our cool accessory and wanted to know all about it.  Soon we were all engaged in conversation as we shared our plans to visit other breweries and heard about the experiences of others. Our passport was a true conversation starter, introducing us to interesting new acquaintances who all shared a love of craft beer. 4pm seemed to arrive much too quickly and we soon became aware that our time at Wet Ticket would need to come to an end.  We finished our beer and conversation and vowed to be back soon.  Since we were not quite ready to head home, we decided to visit the iconic, Nancy's Townhouse which is just a few steps from Wet Ticket Brewery.
Among those in the know, Nancy's Townhouse is the go to place for the best thin crust pizza in NJ!  Having been here and tasted this delectable treat, I was excited to share it with my friends.  Upon entering the unassuming brick building at 1453 Main Street, and descending the steps into the restaurant, one is instantly transported back in time to a good old fashioned Italian restaurant complete with red and white checked table cloths and waitresses who know the regulars by both name and drink of choice.  Since it was Sunday at 4pm we did not have trouble getting a seat, however if you come on a Friday or Saturday night, you might want to call ahead for a table.  Nancy's is THE PLACE for pizza and many in the area flock here for the perfect pie on the weekends. We happily noted that some of our new friends from the brewery had also migrated to Nancy's so we continued our conversations as we enjoyed our perfect thin crust pizza.
We laughed as we chatted, realizing that we had begun an impromptu pub crawl through Rahway so we decided to add one more stop to our day, The Irving Inn Social, located just around the corner at 1443 Irving Street.
The Irving Inn Social felt like home the second we entered the bar.  Decorated with designs inspired by the classic rock period of the 1960's and 1970's we were instantly comfortable and knew this would be a place we could gather with friends.  The environment is warm and inviting and the menu is filled with intriguing selections for every palate. Drink selections include a choice of wine, bourbon,12 rotating craft beer taps and cocktails named for classic rock songs. We were happy to see that they featured beer from their neighbor Wet Ticket and even have a Tuesday night special beer and burger pairings featuring selections from Wet Ticket. This place is a true local treasure!
We chatted with the owner Jesse about the cool rock photos on the wall, the weekly entertainment and the yummy small plates we were sharing at our table. He is warm and engaging and the kind of guy you hope will be very successful. Jesse knows his craft beer and engaged the beer lovers at the table with discussions of his favorites and those he will soon feature.  We showed him our passport and he gave us insight on the breweries he has already featured and those he hopes to.  Before leaving, we explored the outside patio and promised ourselves to return when the weather was warm. This felt like a place we could visit often.
As the day turned to evening, it was time to return to our homes. Before we said goodbye, we chose a date and selected the next brewery we would visit. Now that we had our first stamp in the NJ Brewery Passport we were anxious to add more!